KEARNY –
Get ready to comb through all that stuff you've been storing in your attic or china closets.
Maybe you'll re-discover that long-lost coin, stamp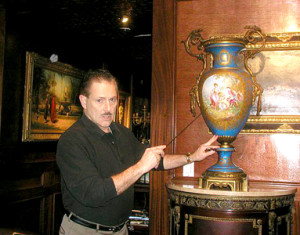 collection and comic books. Or your granddad's pocket watch or maybe a precious heirloom of some kind.
It could turn out that any or all of those items may have untold value you never dreamed of.
You'll get a chance to find out this spring when the Kearny Museum Board presents "Antique Appraisal Day" on Sunday, April 17, from 1 to 4 p.m. on the top floor of the Public Library, 318 Kearny Ave.
Sandra McCleaster, vice president of the museum board, said the event format will be patterned after Public Television's "Antique Road Show," except that there are no plans to televise it.
"We will have an expert appraiser and people will be invited to bring their treasures and they will be appraised," McCleaster said. "It should be very entertaining."
The expert is Jon Felz, senior vice president of RZM Fine Arts & Antiques of Pearl River, N.Y., a former NYPD detective specializing in fine arts thefts and fraud who retired in 2000 after 18 years with the department to transition full-time into the antiques field, becoming a certified appraiser.
"He begins," McCleaster said, "by talking about collecting vintage items, what's hot, what's not, in the antiques market, how changing demographics has changed the way we look at it. Nobody among today's younger generation is in awe of their grandparents' china. He says, 'Your kids don't want that stuff.'"
Felz told The Observer that he had an early introduction to the industry through his family: His mother was a dealer at an antiques shop in Woodcliff Lakes and he gravitated toward the business.
Aside from running RZM, which has a few New Jersey branches, including one in Cliffside Park, Felz also is a certified appraiser in the New England Appraisers Association.
As a way of educating the general public about antiques, he also does shows like the one in the works for Kearny.
"I do about 30 shows a year," Felz said. And, at these programs, he talks about the antiques market and how it operates, including programs at the Kip Center in Rutherford and Kingsland House in Nutley, "where people were lined up outside in advance, waiting to get in," McCleaster recalled.
In determining the value of an antique, Felz said that "sentimentality means nothing." Nor does the age of an item necessarily enhance its worth, he added.
It's really what the market dictates that determines how an item will sell, he said.
In the current market, Felz said, "Chinese is hot." Because "their economy is the richest in the world," that drives the value of certain Chinese-made items, he said. "During the Cultural Revolution, a lot of things were expelled from China. Now [the Chinese] want their culture back – but they don't want those things made for export."
Incidentally, it's not just your typical objets d'art that Felz will be reviewing. "We appraise all kinds of things, from fine red wines to antique guns," he said.
If you should happen to have a bottle of 1882 Chateau d'Yquem, Sauterne, France, aging in your wine cellar, for example, that could be worth more than $20,000, according to one website specializing in such matters.
Although final details on the Kearny event are still being planned, McCleaster said the current thinking among the museum board members is, "we will charge a $5 entrance fee, which entitles you to an appraisal of one item."
"Additional items, up to a maximum of three, are $5 each," she said. People's items will be seen in order. "More than three items will require getting back in line," she said.
Felz will receive a fee for his services, she said.
Light refreshments will be served at the event. More details will be released at a later time.
McCleaster said the museum board, led by president Barbara Toczko, hopes that events like this will help foster a stronger interest in the museum.
Hidden away on the top floor of the library, the museum for some years, had become "just a storage depository for stuff nobody knew what to do with," McCleaster said. "We're trying to do periodic events like this to bring people so they become more aware that we are here."
Learn more about the writer ...